Community initiatives that inspire, transform and create sustainable change
It's the little things that can have the greatest impact
Each project our teams undertake results from a community conversation and identified needs. They can vary greatly in size and scope, located in an urban slum or remote mountain village.
Projects can have a tangible, physical result or be the spark for real community change through knowledge and skills sharing with individuals or groups.
Embedded with host communities, our volunteers give their time, knowledge, experience, and physical effort to help communities create their own change.
One project at a time.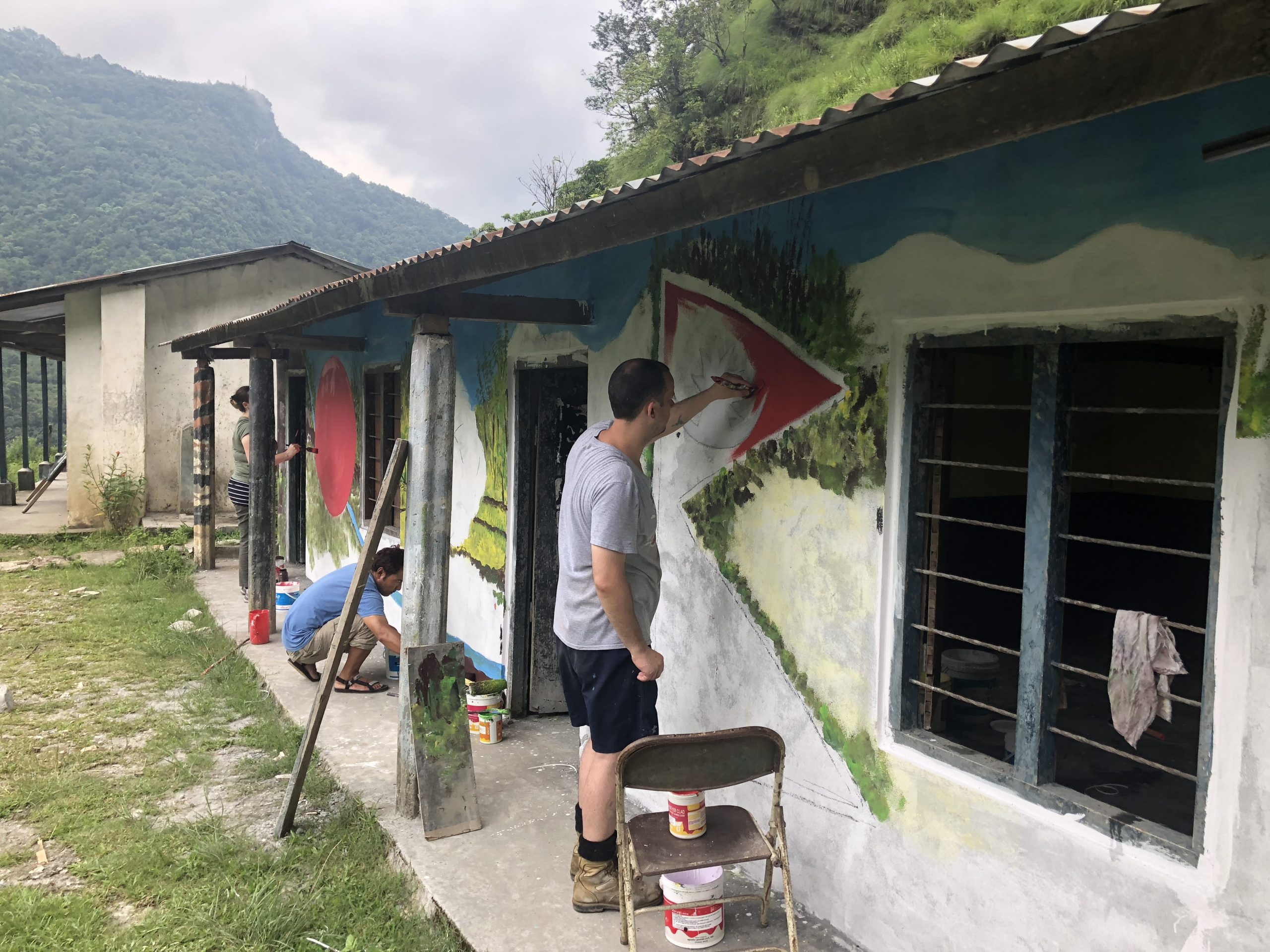 REAL PROJECTS, LIFE-CHANGING IMPACTS
community-initiated projects completed by our teams
experience working with Nepali communities-in-need
volunteers have experienced a life-changing humanitarian adventure
| Group (Teams) | Project A | (A) Community |
| --- | --- | --- |
| Trek-for-a-cause | AUTISM GROUP MATERIALS & WORKSHOPS | POKHARA |
| Trek-for-a-cause | ANNAPURNA BASE CAMP | LAMJUNG |
| Health Team | HEALTH WORKSHOPS | POKHARA |
| Health Team | HEALTH WORKSHOPS | POKHARA |
| Health Team | HEALTH WORKSHOPS | POKHARA |
| Reunion Team | SCHOOL IMPROVEMENTS - MURAL | BHULBULE |
| Reunion Team | SCHOOL IMPROVEMENTS | BHACHE |
| Construction Team | SCHOOL RESOURCES | SUIRUNG |
| Construction Team | SCHOOL RESOURCES | SUBEDI GUAN |
| Construction Team | AMA SAMUHA BUILDING CONSTRUCTION - COMPLETION | SERA |
| Education Team | SCHOOL UPGRADES - STEPS & WALL | SIMLE |
| Education Team | SCHOOL RESOURCES | SIMLE |
| Education Team | TEACHING & EDUCATION WORKSHOPS | SIMLE |
| Education Team | SCHOOL RESOURCES | BHULBULE |
| Education Team | TEACHING & EDUCATION WORKSHOPS | BHULBULE |
| MODDD Team | SCHOOL UPGRADES - STEPS & WALL | SIMLE |
| MODDD Team | SCHOOL RESOURCES - DEAF STUDENTS | DAMAK |
| MODDD Team | SITE PLANNING WORKSHOP - REFUGEE CAMP | DAMAK |
| Group (Teams) | Project A | (A) Community |
| --- | --- | --- |
| Donation Project | LANDSLIDE STABLISATION | BHULBULE |
| Community Action Team | GAN RESOURCE CENTRE - INTERNAL DESIGN ASSESSMENT & IMPROVEMENTS | BUNGAMATI |
| Community Action Team | DANCE WORKSHOP YOUTH LEADERS | LALITIPUR |
| Community Action Team | SCHOOL RESOURCES | SIMPANI |
| Community Action Team | SCHOOL IMPROVEMENTS | SIMPANI |
| Group (Teams) | Project | Community |
| --- | --- | --- |
| Rotary Team | SCHOOL RESOURCES | LALITPUR |
| Rotary Team | SCHOOL RESOURCES | LALITPUR |
| Rotary Team | SCHOOL RESOURCES | LALITPUR |
| Rotary Team | WOMENS HEALTH WORKSHOPS & HP DISTRIBUTION | BUNGAMATI |
| Rotary Team | ONLINE EDUCATION CENTRE - FOUNDATIONS | LALITPUR |
| Group (Teams) | Project | Community |
| --- | --- | --- |
| Placement | ARCHITECTURE & COMMUNITY | DOLAKHA |
| Group (Teams) | Project | Community |
| --- | --- | --- |
| Construction Team | SCHOOL RESOURCES | SUBEDI GUAN |
| Construction Team | WOMENS HEALTH WORKSHOPS & HP DISTRIBUTION | SERA |
| Construction Team | AMA SAMUHA BUILDING CONSTRUCTION - COMMENCE | SERA |
| Group (Teams) | Project | Community |
| --- | --- | --- |
| Community Action Team | WOMENS HEALTH WORKSHOPS & HP DISTRIBUTION & CLOTHING | MARSYANGDI |
| Community Action Team | SCHOOL IMPROVEMENTS - MURAL | SIMLE |
| Logistics Team | ITPARE PROJECT DEVELOPMENT | ITPARE |
| Group (Teams) | Project | Community |
| --- | --- | --- |
| Placement | INTERNATIONAL LAW | KATHMANDU |
| Education Team | TEACHING & EDUCATION WORKSHOPS | RUDRAYNEES |
| Education Team | TEACHING & EDUCATION WORKSHOPS | BUNGAMATI |
| Education Team | TEACHING & EDUCATION WORKSHOPS | KOKHANA |
| Donation Project | ASSIST CHURCH EXTENSION | GHAN POKHARA |
| Donation Project | MOBILITY EQUIPMENT DONATION | POKHARA |
| Photography Team | CAPTURING SIGHTS AND PEOPLE | POKHARA |
| Photography Team | CAPTURING SIGHTS AND PEOPLE | CHITWAN |
| Photography Team | CAPTURING SIGHTS AND PEOPLE | KATHMANDU |
| Group (Teams) | Project | Community |
| --- | --- | --- |
| Placement | ARCHITECTURE & COMMUNITY | DOLAKHA |
| Group | Project | Community |
| --- | --- | --- |
| Logistics Team | POST FLOOD - PROJECT CONSULTATION & EDUCATION MATERIAL DISTRIBUTION | KHUMRUBHITTA |
| Donation Project | NURSERY PROGRAM SUPPORT | BHULBULE |
| Logistics Team | POST EARTHQUAKE - PROJECT CONSULATION AND WORKSHOP | ITPARE |
| Construction Team | ARCHITECTURAL EDUCATION WORKSHOP | CHANGUNARAYAN |
| Construction Team | AMA SAMUHA BUILDING IMPROVEMENTS - MURAL | TUNIKHARKA |
| Construction Team | AMA SAMUHA BUILDING UPGRADES | TUNIKHARKA |
| Construction Team | DRAINAGE & WATER DIVERSION | SIMLE |
| Health Team | DISABILITY SUPPORT TRAINING | POKHARA |
| Group | Project | Community |
| --- | --- | --- |
| Health Team | PSYCHOLOGY WORKSHOPS | POKHARA |
| Health Team | PSYCHOLOGY WORKSHOPS | POKHARA |
| Donation Project | SCHOOL IMPROVEMENTS - PLAY GROUND FENCE & GATE | SIMLE |
| Photography Team | CAPTURING SIGHTS AND PEOPLE | LAMJUNG |
| Photography Team | CAPTURING SIGHTS AND PEOPLE | POKHARA |
| Community Action Team | TEACHING & EDUCATION WORKSHOPS | SUBEDI GUAN |
| Community Action Team | SCHOOL IMPROVEMENTS - MURAL / PAINTING | SUBEDI GUAN |
| Community Action Team | TEACHING & EDUCATION WORKSHOPS | BHULBULE |
| Construction Team | AMA SAMUHA DEVELOPMENT & CONSULTATION / MUP | CHAULI BAZAAR |
| Construction Team | SCHOOL IMPROVEMENTS - FURNITURE REPAIR | SUBEDI GUAN |
| Construction Team | SCHOOL IMPROVEMENTS - INSTALL SKYLIGHTS | SUBEDI GUAN |
| Construction Team | SCHOOL IMPROVEMENTS - MURAL / PAINTING | SUBEDI GUAN |
| Group | Project | Community |
| --- | --- | --- |
| Placement | ARCHITECTURE & COMMUNITY | DOLAKHA |
| Placement | ARCHITECTURE & COMMUNITY | ITPARE |
| Placement | ARCHITECTURE & COMMUNITY | DOLAKHA |
| Group | Project | Community |
| --- | --- | --- |
| Construction Team | AMA SAMUHA BUILDING UPGRADES | GAURI GAUN |
| Health Team | HEALTH POST IMPROVEMENTS - BIRTHING ROOM | KHUDI |
| Health Team | THEATRE NURSES WORKSHOP | BESISAHAR |
| Health Team | MIDWIVES WORKSHOP | BESISAHAR |
| Group | Project | Community |
| --- | --- | --- |
| Donation Project | SCHOOL IMPROVEMENTS - FENCING AND GATE | TARAPU |
| Education Team | SCHOOL RESOURCES | SIMLE |
| Education Team | TEACHING & EDUCATION WORKSHOPS | SIMLE |
| Education Team | TEACHING & EDUCATION WORKSHOPS | BHULBULE |
| Education Team | SCHOOL RESOURCES | BHULBULE |
| Education Team | TEACHING & EDUCATION WORKSHOPS | LALITPUR |
| Construction Team | POST EARTHQUAKE - TEMP HOME CONSTRUCTION ELDERLY | GORKHA |
| Group | Project | Community |
| --- | --- | --- |
| Logistics Team | POST EARTHQUAKE - COMMUNITY REBUILDING WORKSHOPS | RITAPANI |
| Health Team | WOMENS HEALTH WORKSHOPS & HP DISTRIBUTION & CLOTHING | GORKHA |
| Health Team | HEALTH WORKSHOPS | POKHARA |
| Health Team | HEALTH WORKSHOPS | POKHARA |
| Health Team | HEALTH WORKSHOPS | POKHARA |
| Construction Team | POST EARTHQUAKE - TEMP SHELTER IMPROVEMENTS (250 FAMILIES) | RITAPANI |
| Construction Team | POST EARTHQUAKE - KINDER REPAIRS | SUIRUNG |
| Construction Team | POST EARTHQUAKE - REPAIRS TO MAITI NEPAL BUILDING | KATHMANDU |
| Construction Team | POST EARTHQUAKE - TEMP SHELTER IMPROVEMENTS (250 FAMILIES) | RITAPANI |
| Group | Project | Community |
| --- | --- | --- |
| Health Team | FACILITY IMPROVEMENTS - BALUSTRADES & PAINTING | JOPARTI |
| Health Team | BUILDING IMPROVEMENTS - KITCHEN | POKHARA |
| Health Team | HEALTH WORKSHOPS | POKHARA |
| Health Team | HEALTH WORKSHOPS | KATHMANDU |
| Construction Team | SCHOOL IMPROVEMENTS - FURNITURE REPAIR | SUIRUNG |
| Construction Team | SCHOOL UPGRADES - FLOORING REPLACEMENT | SUIRUNG |
| Construction Team | SCHOOL UPGRADES - ROOF REPLACEMENT | SUIRUNG |
| Construction Team | WOMENS HEALTH WORKSHOPS & HP DISTRIBUTION | CHAULI BAZAAR (BUDDHA) |
| Construction Team | AMA SAMUHA BUILDING CONSTRUCTION - EXTENSION | CHAULI BAZAAR (BUDDHA) |
| Construction Team | AMA SAMUHA BUILDING CONSTRUCTION - EXTENSION | CHAULI BAZAAR (BUDDHA) |
| Construction Team | SCHOOL IMPROVEMENTS - FENCING | BARCHE |
| Group | Project | Community |
| --- | --- | --- |
| Health Team | WOMENS HEALTH WORKSHOPS & HP DISTRIBUTION | KATHMANDU |
| Health Team | WOMENS HEALTH WORKSHOPS & HP DISTRIBUTION | KATHMANDU |
| Health Team | HEALTH WORKSHOPS | POKHARA |
| Health Team | HEALTH WORKSHOPS | POKHARA |
| Health Team | HEALTH WORKSHOPS | POKHARA |
| Group | Project | Community |
| --- | --- | --- |
| Placement | MIDWIFERY | KATHMANDU |
| Health Team | PHARMACY PLACEMENT | POKHARA |
| Health Team | PHARMACY PLACEMENT | POKHARA |
| Health Team | HEALTH WORKSHOPS | POKHARA |
| Health Team | HEALTH WORKSHOPS | POKHARA |
| Health Team | HEALTH WORKSHOPS | POKHARA |
| Construction Team | WOMENS REFUGE WASHING FACILITY | ITAHARI |
| Construction Team | SCHOOL CONSTRUCTION - HOSTEL FOUNDATIONS | DOLAKHA |
| Construction Team | BASECAMP SHOWERS UPGRADE | BHULBULE |
| Construction Team | PASHUPATINATH HOSPICE BUILDING UPGRADES & IMPROVEMENTS | KATHMANDU |
| Construction Team | SCHOOL UPGRADES - NEW SANITATION | DUNGAI |
| Construction Team | AMA SAMUHA BUILDING CONSTRUCTION | TAAR |
| Construction Team | AMA SAMUHA BUILDING CONSTRUCTION | KHUDI SOUTH |
| Group | Project | Community |
| --- | --- | --- |
| Donation Project | SCHOOL IMPROVEMENTS - PLAY GROUND LEVELLING | SIMLE |
| Health Team | WOMENS HEALTH EDUCATION WORKSHOPS | BHULBULE |
| Health Team | HEALTH WORKSHOPS | POKHARA |
| Health Team | HEALTH WORKSHOPS | POKHARA |
| Health Team | HEALTH WORKSHOPS | POKHARA |
| Trek-for-a-cause | ANNAPURNA BASE CAMP | KATHMANDU |
| Construction Team | SCHOOL IMPROVEMENTS | NAYAPATI |
| Construction Team | SCHOOL IMPROVEMENTS | SIMLE |
| Construction Team | SCHOOL UPGRADES - WATER SUPPLY | DHAGAI |
| Construction Team | CHURCH EXTENSION | BHULBULE |
| Group | Project | Community |
| --- | --- | --- |
| Construction Team | WATER TESTING & RESEARCH | BHULBULE |
| Construction Team | SCHOOL IMPROVEMENTS - EARLY LEARNING MURAL | SIMLE |
| Construction Team | SCHOOL UPGRADES - STOREROOM CONVERSION TO CLASSROOM | SIMLE |
| Construction Team | INSTALL SCHOOL SKYLIGHTS | BHULBULE |
| Health Team | HEALTH WORKSHOPS | POKHARA |
| Health Team | HEALTH WORKSHOPS | POKHARA |
| Health Team | BUILDING IMPROVEMENTS | POKHARA |
| Health Team | HEALTH WORKSHOPS | POKHAR |
| Group | Project | Community |
| --- | --- | --- |
| Trek-for-a-cause | EVEREST BASE CAMP | KATHMANDU |
| Health Team | THERAPEUTIC & EDUCATIONAL PLAY EQUIPMENT | POKHARA |
| Health Team | GIRLS HEALTH WORKSHOPS | POKHARA |
| Health Team | HOSPITAL ADMIN WORKSHOPS | POKHARA |
| Health Team | LEPROSY CARE WORKSHOPS | POKHARA |
| Health Team | PALLATIVE CARE WORKSHOPS | POKHARA |
| Education Team | SCHOOL RESOURCES | BHULBULE |
| Education Team | TEACHING & EDUCATION WORKSHOPS | KATHMANDU |
| Construction Team | SCHOOL RESOURCES | SUBEDI GUAN |
| Construction Team | SCHOOL IMPROVEMENTS | SUBEDI GUAN |
| Construction Team | SCHOOL IMPROVEMENT - WATER SUPPLY | SUBEDI GUAN |
| Construction Team | SCHOOL CONSTRUCTION - COMPLETE | GOSSHING KHAULE |
| Construction Team | KINDER CONSTRUCTION - COMPLETE | SUIRUNG |
| Group | Project | Community |
| --- | --- | --- |
| Construction Team | KINDER CONSTRUCTION - FOUNDATIONS | SUIRUNG |
| Trek-for-a-cause | EVEREST BASE CAMP | KATHMANDU |
| Trek-for-a-cause | SCHOOL IMPROVEMENTS - REPAIRS & PAINTING | LELE |
| Health Team | HEALTH WORKSHOPS | KATHMANDU |
| Health Team | HEALTH WORKSHOPS | POKHARA |
| Health Team | HEALTH WORKSHOPS | POKHARA |
| Construction Team | SCHOOL CONSTRUCTION - CONTINUATION | GOSSHING KHAULE |
| Group | Project | Community |
| --- | --- | --- |
| Construction Team | SCHOOL CONSTRUCTION - FOUNDATIONS | GOSSHING KHAULE |
| Health Team | HEALTH WORKSHOPS | POKHARA |
| Group | Project | Community |
| --- | --- | --- |
| Donation Project | SCHOOL LAND PURCHASE | SIMLE |
| Community Action Team | SCHOOL IMPROVEMENTS - CONTINUED | SIMBU |
| Education Team | SCHOOL RESOURCES & TOYS | POKHARA |
| Education Team | TEACHING & EDUCATION WORKSHOPS | BHULBULE |
| Education Team | SCHOOL RESOURCES | BHULBULE |
| Construction Team | SANITATION WORKSHOP | KATHMANDU |
| Construction Team | WATER STORAGE TANK FOR COMMUNITY | BHULBULE |
| Health Team | HEALTH WORKSHOPS | POKHARA |
| Health Team | WOMENS HEALTH EDUCATION WORKSHOPS | ARMALA |
| Health Team | BUILDING UPGRADE - ACCESSABILITY RAMPS | POKHARA |
| Health Team | HEALTH WORKSHOPS | POKHARA |
| Trek-for-a-cause | ANNAPURNA CIRCUIT | KATHMANDU |
| Group | Project | Community |
| --- | --- | --- |
| Donation Project | SCHOOL RESOURCES | BARCHE |
| Health Team | HEALTH WORKSHOPS | POKHARA |
| Health Team | HEALTH WORKSHOPS | POKHARA |
| Health Team | HEALTH WORKSHOPS | POKHARA |
| Trek-for-a-cause | SCHOOL IMPROVEMENTS - FURNITURE & RESOURCES | SIMLE |
| Construction Team | ARCHITECTURAL EDUCATION WORKSHOP | BHAKTAPUR |
| Construction Team | SCHOOL UPGRADES & IMPROVEMENTS - FLOORING & FURNITURE | SUIRUNG |
| Construction Team | SCHOOL UPGRADES - WATER STORAGE | BAHUNDANDA |
| Construction Team | ARCHITECTURAL EDUCATION WORKSHOP | BHAKTAPUR |
| Construction Team | SCHOOL UPGRADES - FLOORING | SUIRUNG |
| Construction Team | SANITATION BLOCK BASECAMP | BHULBULE |
| Community Action Team | SCHOOL IMPROVEMENTS - COMMENCED | SIMBU |
| Group | Project | Community |
| --- | --- | --- |
| Trek-for-a-cause | HEALTH POST MATERIALS & FRIDGE | NGADI |
| Trek-for-a-cause | SCHOOL UPGRADES - WALL | TARAPU |
| Health Team | HEALTH WORKSHOPS | POKHARA |
| Health Team | HEALTH WORKSHOPS | POKHARA |
| Health Team | HEALTH WORKSHOPS | POKHARA |
| Health Team | HEALTH WORKSHOPS | POKHARA |
| Community Action Team | SCHOOL IMPROVEMENTS | SIPADOL |
| Community Action Team | SCHOOL CONSTRUCTION & PLAYGROUND LEVELLING | SUIRUNG |
| Community Action Team | SCHOOL IMPROVEMENT - WATER SUPPLY | BUNGAMATI |
| Community Action Team | IRRIGATION UPGRADE - ENVIROMENTAL RESOURCE CENTRE | SIPADOL |
| Community Action Team | SCHOOL IMPROVEMENTS - PLAYGROUND FENCE | KHUDI |
| Community Action Team | SCHOOL UPGRADES & IMPROVEMENTS - RENDERING/PAINITING/SANITATION | BARCHE |
| Community Action Team | SCHOOL UPGRADES - DRINKING WATER SUPPLY | BUNGAMATI |
| Group | Project | Community |
| --- | --- | --- |
| Community Action Team | SCHOOL UPGRADES - NEW CLASSROOM | SANOPATAN |
| Community Action Team | SCHOOL IMPROVEMENTS - RENDERING & PLAYGROUND | SIPADOL |
| Community Action Team | SCHOOL UPGRADES - NEW SANITATION & PLAYGROUND | DANADAGUAN |
| Community Action Team | SCHOOL UPGRADES & IMPROVEMENTS - RENDERING & FLOORING | GAIRIPATYANI |
| Community Action Team | SCHOOL UPGRADES - NEW CLASSROOM & STUPA | BHULBULE |
| Community Action Team | SCHOOL IMPROVEMENTS - PAINTING | DANADAGUAN |
| Group | Project | Community |
| --- | --- | --- |
| Community Action Team | SCHOOL UPGRADES - ROOF REPLACEMENT | PUMDI DUMDHI |
| Community Action Team | SCHOOL IMPROVEMENTS | BARCHE |
| Community Action Team | ECCA CENTRE UPDGRADES - DRAINAGE &LANDSCAPING | BHAKTAPUR |
| Community Action Team | HOME IMPROVEMENTS | POKHARA |
| Community Action Team | HOUSING CONSTRUCTION | Community |
| Community Action Team | SCHOOL IMPROVEMENTS | KASKIKOT |
| Community Action Team | SCHOOL IMPROVEMENTS | PATAN |
| Group | Project | Community |
| --- | --- | --- |
| Community Action Team | SCHOOL IMPROVEMENTS | HARKAPUR |
| Community Action Team | SCHOOL IMPROVEMENTS | DANADAGUAN |
| Community Action Team | SCHOOL IMPROVEMENTS | SIPADOL |
| Community Action Team | BASIC HOUSING CONSTRUCTION & IMPROVEMENTS | POKHARA |
| Community Action Team | SCHOOL IMPROVEMENTS | SIPADOL |
| Community Action Team | BASIC HOUSING CONSTRUCTION & IMPROVEMENTS | POKHARA |
| Community Action Team | HOME IMPROVEMENTS | POKHARA |
| Community Action Team | DRAINAGE & GROUNDWORKS - RESOURCE CENTRE | BHAKTAPUR |
| Community Action Team | BASIC HOUSING CONSTRUCTION & IMPROVEMENTS | POKHARA |
| Community Action Team | HOME IMPROVEMENTS | POKHARA |
| Community Action Team | HOME IMPROVEMENTS | POKHARA |
| Community Action Team | SCHOOL IMPROVEMENTS | TANAHUN |
| Community Action Team | DRAINAGE & GROUNDWORKS - RESOURCE CENTRE | BHAKTAPUR |
| Community Action Team | DRAINAGE & GROUNDWORKS - RESOURCE CENTRE | BHAKTAPUR |
| Group | Project | Community |
| --- | --- | --- |
| Community Action Team | SCHOOL IMPROVEMENTS - FURNITURE | BARCHE |
| Community Action Team | ARACHNID PROJECT | MARSYGANDI DISTRICT |
| Community Action Team | KITCHEN CONSTRUCTION - ECCA RESOURCE CENTRE | BHAKTAPUR |
| Community Action Team | BLACKBUCK CONSERVATION PROJECT | BARDIA |
| Community Action Team | MEDICAL CLINIC | DHADING BESI |
| Community Action Team | ARACHNID PROJECT | MARSYGANDI DISTRICT |
| Community Action Team | SCHOOL RESOURCES | BARCHE |
| Community Action Team | SANITATION SURVEY | KHUDI |
| Community Action Team | MEDICAL CLINIC | DHADING BESI |
| Community Action Team | KITCHEN CONSTRUCTION - ECCA RESOURCE CENTRE | BHAKTAPUR |
| Community Action Team | BLACKBUCK CONSERVATION PROJECT | BARDIA |
| Community Action Team | WOMENS HEALTH CLINIC | DOLGAHAT |
| Community Action Team | MENS HEALTH CLINIC | KHUDI |
| Community Action Team | BLACKBUCK CONSERVATION PROJECT | BARDIA |
| Community Action Team | KITCHEN CONSTRUCTION - ECCA RESOURCE CENTRE | BHAKTAPUR |
| Community Action Team | BLACKBUCK CONSERVATION PROJECT | BARDIA |
| Community Action Team | BLACKBUCK CONSERVATION PROJECT | BARDIA |
| Community Action Team | SCHOOL IMPROVEMENTS - FURNITURE | BARCHE |
| Community Action Team | IRRIGATION SURVEY | POLTARI |
| Community Action Team | SCHOOL RESOURCES | TARAPU |
| Community Action Team | EYE CLINIC | DHADING BESI |
| Community Action Team | BLACKBUCK CONSERVATION PROJECT | BARDIA |
| Community Action Team | WOMENS HEALTH CLINIC | LALGHAT |
| Community Action Team | HEALTH CLINIC (LEPROSY) | BARDIA |